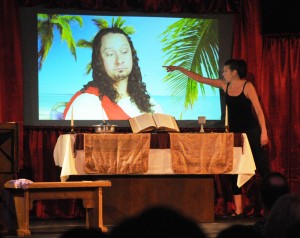 Writer/performer Thea Deley tackles the most sacred of topics in her solo show, Jesus Loves You! (but hates me).
You might wonder if you've mistakenly stepped into a church when you first enter the theater. Don't worry! You've simply stumbled into Thea's childhood, and you're in for an hilarious ride.
You'll meet the Sunday School teacher who warned Thea about brushing with Satan's toothpaste. You'll meet the Bible Study friend who wanted to protect Thea's virginity. (Although too late for Thea, you'll have a shot at Secondary Virginity during her show!) You might even meet her college boyfriend who thought God communicated via heavenly hair dryer.
You'll compete for cool irreverent prizes during audience games like Bible Feud and Morally Twisted. And just like in real life, every couple of minutes you'll be treated to a commercial for a product you don't need, like Communion On-the-Go or No Sins Too Small Stoning Kits.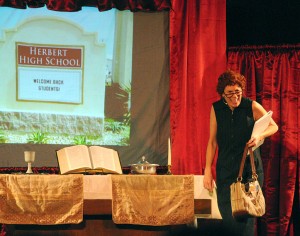 Likened to her idols Carol Burnett and Lily Tomlin, Thea brings to life 10 different characters during her multimedia show. Many come directly from her own life, while others are composites of people she heard about from friends or read about in the news.
"Some people don't believe me when I tell them everything in my show is based on reality," Thea says. "Take my Working out with Jesus exercise video …. I got the idea from this place in Texas that teaches a pole dancing for Jesus class. Seriously — I don't have to push the envelope. I just open it up!"
But it's not all fun and games. "Religion eventually caused a major division in my family," Thea says. "The more I questioned and disagreed with my parents' beliefs, the farther apart we grew." A couple years ago Thea realized that the conflict in her own life was a microcosm of what's happening in the country.
"When we disagree, we take sides and stop listening. I'm right and you're wrong. And if you think I'm going to 'hell' for disagreeing with you, well then, there's no room for conversation or compromise, is there?"
Thea believes that kind of 'Us versus Them' thinking is dividing families, communities, and our nation. "It's time for religion to evolve," she says.
Thea debuted her sold-out show October 2011 at the Paradise Theatre in Paonia, Colo. By sharing—and laughing at—her own story, Thea replaces the fear and judgment of her childhood with her new religion—love and personal responsibility. Her show opens the door for others to do the same.
"I loved Thea's show," said audience member Mary Lee. "I found it really healing. It gave me a new lease on life!"