"Jesus Loves You! (but hates me)" travels moderately light, but there are audio and lighting considerations that are important to the success of the show.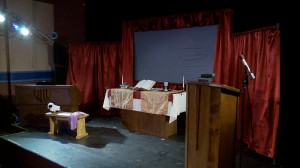 We arrive at the venue with the following:
Rear-projection projector

9′ X 6′ rear-projection screen

3-part curtained backdrop (see photo to the right)

4 set pieces (organ, altar, pulpit, and bench) 

Wireless microphone for Thea

Computers for multimedia projection (using our projector)

12-channel mixer and various audio cables and connectors
We will arrange the set ourselves, happily working with stage management folks and other people who want to help out. ("Many hands make light the work" and all.) We enjoy collaborating with house audio and lighting professionals, too. For details about our technical requirements, please review our
tech rider
.
Minimum Stage Dimensions
20 feet wide

15 feet deep
12 feet overhead clearance
Key Tech Information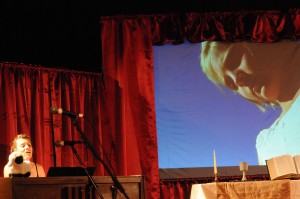 The center section of our backdrop is made up of a 10′ X 10′ curtained frame with a rear-projection screen (approximately 9′ X 6′) in the center. Because of this, lighting the stage can be tricky. It's very important to minimize the amount of light being cast on the screen in order to prevent a washed out projected image for the audience. See the plot below for lighting configurations:
Audio considerations
The following two stage plots show the basic positioning of the elements in Thea's set, and the two possible audio configurations we run with:
Stage Plot using house mixer – shows all of our audio sources as if they were going straight into the house system.
Stage Plot using a simple stereo feed to house – for smaller houses that do not have a large enough mixing board, or where simplicity is the order of the day.