At the end of January, 2016, we're performing the full 2-act version of our production as part of a fundraiser for these two local groups:
Sunday Assembly Las Vegas (SALV)
Secular Student Alliance at UNLV
SYNOPSIS
A Jesus puppet! Mary's first orgasm! A public stoning! Thea Deley shares her story of growing up in a conservative Christian family and how a series of epiphanies — some painful, most hilarious — led her to leave the faith.
Thea may be the only comedian ever invited to perform at an Atheists convention AND a Baptist church. Filled with game shows, sketch comedy and spoof videos, "Jesus Loves You! (But Hates Me)" is Thea's love note to everyone who's survived religious indoctrination with their faith in humanity intact. For mature audiences only.
SHOW TRAILER

PERFORMANCE TIME
Saturday, January 30 at 7pm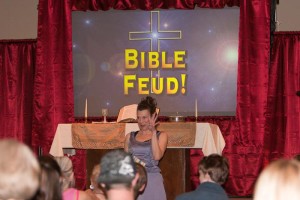 LOCATION
UNLV Student Union Theatre
4505 S Maryland Pkwy
Las Vegas, NV 89154
BUY TICKETS
Click Here to purchase online. Tickets will be available at the door as well.

CREDITS THIS GO-ROUND
Written & Performed: Thea Deley & Mike Maxwell
Script Consultant/Acting Coach: Carol Lommen
Direction: Carol Lommen & Mike Maxwell
Sound Design: Mike Maxwell
Video Projection Design: Mike Maxwell
Tech Crew: Stephen Rokitka, Bill Cockshoot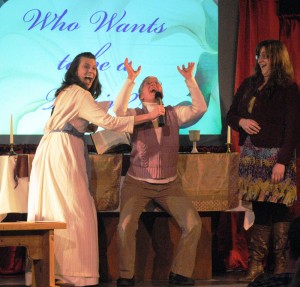 TESTIMONIALS (Can I Get an AMEN?!)
"I laughed so hard I fogged up my glasses!"
—Kari Schoonhoven
Former Baptist

"Amazing, provocative, stunning and sharp. Thea's articulation of what it means to be human and to love couldn't have come across more clearly."
—Rev. Brian Henderson
First Baptist Church of Denver

"'Jesus Loves You! (But Hates Me)' is intelligent, heartwarming, powerful, and above all else, hysterical. This is a show I would recommend to EVERYONE — believers and blasphemers alike!"
—Ashlee Bingham
Secular Student Alliance at Colorado Mesa University

"It is not an everyday occurrence that I go to a comedy expecting religion-bashing and instead find myself healing my own grievances against religion. Rated 'RAD!'"
—Kailyn Lamb
Denver Metro State University student paper
MEDIA MENTIONS
Denver's alt-weekly Westword
Freedom from Religion Foundation's Freethought Today
KFNV Community Radio
KDNK Community Radio 
SPECIAL THANKS
Sin City Improv, Photo & Film
Las Vegas Sunday Assembly
Performing Arts Community of the North Fork Valley in western Colorado